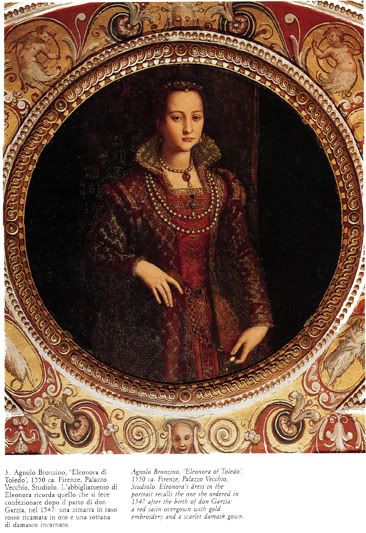 For the
Artemisian Costuming Challenge
, I will be doing a Florentine gown as popularized by Eleanora di Toledo, particularly in this image painted posthumously by Bronzino.
The kirtle, called a sottana in
Moda a Firenze
, will be made of butter yellow damask from my stash. The overcoat may or may not be a part of this challenge, depending on how cost prohibitive the fabric is and/or finding a patron. This gown has been in planning stages for about a year, and I do not want to compromise my vision due to the dollar limit on the challenge. I hope to obtain eggplant silk for the overdress. If this doesn't happen, the overdress will not go towards the challenge, but I will eventually be making it anyway (possibly within the challenge time-frame, possibly not).
The kirtle will be self-stiffened: no bodies will be worn with it, as was believed to be the case for Eleonora, according to
Moda a Firenze
.
I will be making a new camacia in white linen with embroidered details as my skin layer, and there will be a high-necked partlet as an accessory. My warmth layer will not be the overdress, but a Dutch Cloak, which Eleanora had several of in her wardrobe accounts. This is a circular short cloak, often with sleeves, or sleeve slits. Another post later will provide additional details on this piece of the challenge.