Yes, it's been a small while.
My time has been occupied... nay, stolen, by this Solstice Court project. I'm making a new Elizabethan Gown for an event which will be on December 13th. I'm re-using my green skirt from this gown,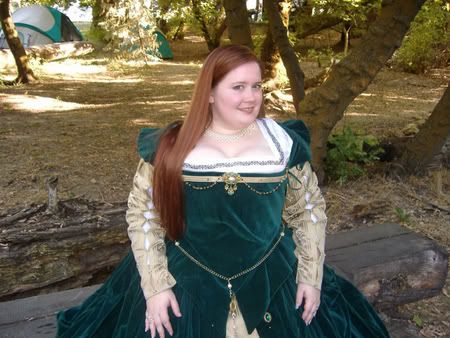 and using remnants of that same fabric to make a bodice that fits better. I'm also using some navy blue brocade to make a new forepart and sleeves.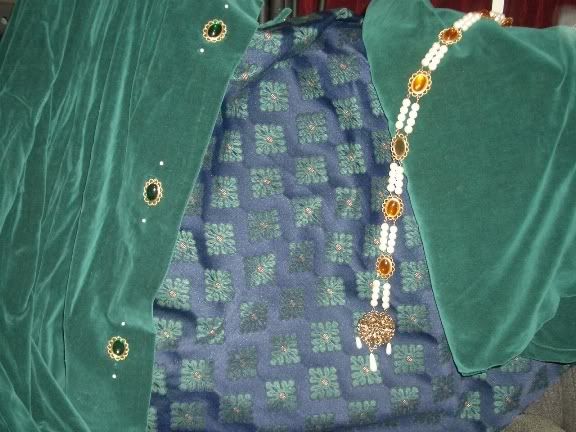 The sleeves are done, complete with amber glass beads and lined in antique-gold silk dupioni. The ribbons tying the sleeves to the bodice are a simple navy grosgrain ribbon, and it will eventually have gold filigree aiglets on the tips.
The bodice has gold german trim in a triangular pattern across the front, with navy velvet ribbon interlaced through it, and gold cord couched down as well. The tabs on the shoulder and waistline are also lined in the antique-gold dupioni, and the main body is lined in black canvas linen. It is stiffened with trigger cloth, trigger canvas, and spring steel boning. I hand-bound eylet holes for the back center lacing, which will be done with green grosgrain ribbon. I would like to learn how to make lucet cordes, so I can make nicer laces.
The forepart is stuck, as I'm nearly out of the amber glass beads, and had to order more from the internet. It will eventually match the sleeves in its entirety, though I may add gold silk guards, if my mood fancies it.
The green skirt above is decent as it stands, though it could use a washing, and needs the hooks in the front to be adjusted to account for the weight I lost, so it doesn't slide down.